If you're looking forward to trying Korean foods during your visit to South Korea, you must've heard about Korean fried chicken. Even though the origin of fried chicken is not Korea, we have taken it so well; there are 409 fried chicken brands with around 87,000 restaurants across the country, according to the recent report! For differentiation, they try hard to make new flavours and sauces, meaning you have so many options.
I like Korean fried chicken too. But I'm trying to have it less often because of the values I want to live by: animal welfare. As much as I wanted to introduce Korean fried chicken, of which the taste is guaranteed, to my foreign friends, I also struggled to find somewhere that showed animal welfare… Until I encountered Rocket Crispy Chicken!
For those who'd like to support restaurants that care about animal welfare while would love to try one of the most popular Korean foods, keep on reading!
What is this restaurant about?
You can find Rocket Crispy Chicken in 3 locations in Seoul. The branch I visited was in Apgujeong Rodeo. Main dishes you can order at Rocket Crispy Chicken are Korean fried chicken and burgers. Chickens they use as ingredients are from Charmfre, the first farm in Korea that received the Animal Welfare certification.
I had thought it would take ages in Korea to see restaurants that bring in the concept of animal welfare for their businesses. I was so glad that I was proved wrong when I saw Rocket Crispy Chicken! 🙂 Therefore, I had no reason not to try it.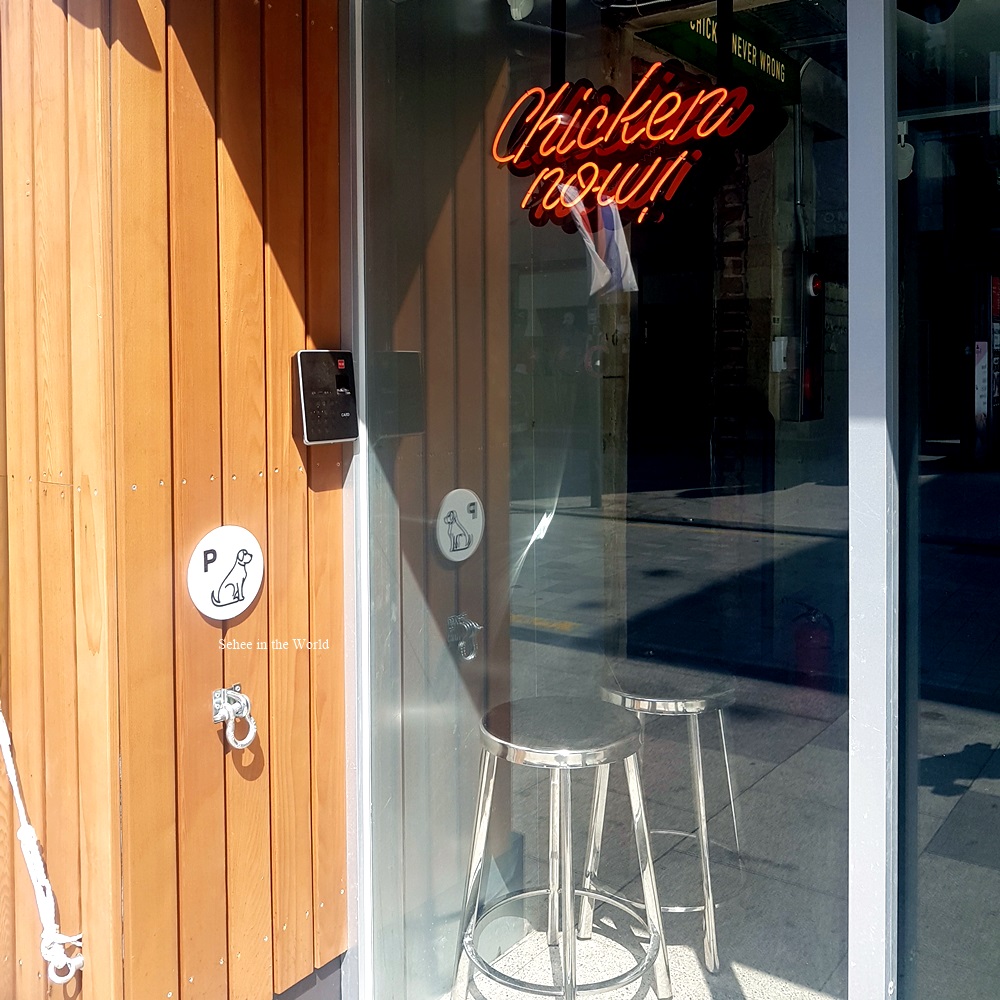 The Apgujeong Rodeo branch also had a spot for dogs to wait for their owners just outside the entrance. The branch has two stories where the interior was rather trendy and hip.
I really liked the cute illustration the restaurant had. It shows how Rocket Crispy Chicken and the supplier fulfill their promise on animal welfare, in an easy way!
Head to Rocket Crispy Chicken for Chimaek!
The most famous keyword about Korean fried chicken will be 'Chimaek'. Chimaek is a mixed word using chicken and maekju, which is beer in Korean. It is often the best way to feel local! Of course at Rocket Crispy Chicken, you can enjoy chimaek ordering craft beers. You can ask for tasting if you're not sure about which one to drink.
I visited Rocket Crispy Chicken's Apgujeong Rodeo branch twice, in August and December 2018. Both times I ordered Cheesepeno and Honey Garlic, both of which were fantastic! My friend and I especially loved Cheesepeno. 🙂 These two flavours don't seem to be available any more at this particular branch though.. The restaurant's website shows they are still on the menu at Seoullo (서울로 1호점). You can check the up-to-date information at its website or enquire on its Instagram.
Rocket Crispy Chicken, is it worth the price?
Depending on which Korean fried chicken brands you compare, Rocket Crispy Chicken may come across bit pricey. However in my personal opinion, it was way more reasonable than I thought for a restaurant that seeks animal welfare! The price range was similar to typical restaurants in Seoul while it was for a good cause; the taste was so nice; craft beer was refreshing; french fries as a side dish was also amazing; and the restaurant's vibe was cool! I would love to visit here more often, if only it was closer to where I live.
Locations of Rocket Crispy Chicken
Apgujeong Rodeo
Address: 1st & 2nd floors, 51, Eonju-ro 172-gil, Gangnam-gu, Seoul (서울특별시 강남구 언주로172길 51 1, 2F)
Opening Hours:

Monday ~ Thursday: 5pm~12am (last order 11:30pm)
Friday: 5pm~12:30am (last order 12am / midnight)
Saturday: 12pm~12:30am (last order 12am / midnight)
Sunday: 12pm~12:00am (last order 11:30pm)

Tel: (+82) (0)2-514-8999
Valet parking available (limited space)
Note: group booking & space hire available (beam projector available on 2nd floor)
Seoullo
Address: 1st floor, Hotel Manu Seoulista, 19 Toegye-ro, Jung-gu, Seoul (서울특별시 중구 퇴계로 19 호텔마누 서울리스타 1층)
Opening Hours: Every day 11:30am~10pm
Tel: (+82) (0)2-757-0999
Parking NOT available
Yeouido
Address: 31, Gukjegeumyung-ro 8-gil, Yeongdeungpo-gu, Seoul (서울특별시 영등포구 국제금융로8길 31)
Opening Hours: Every day 10am~11pm
Tel: (+82) (0)2-6484-5971
Parking available
Pin for later!