Mont Saint Michel's picturesque landscape is more than enough to attract over 3 million tourists every year. Not only is it one of the UNESCO World Heritage Sites, it was the inspiration for Minas Tirith in the Lord of the Rings. For these reasons, Mont Saint Michel was on the top part of the wish list for me and my boyfriend. Visiting the British equivalent years ago during our holiday in Cornwall intrigued us more about the one in Normandy. Our long-standing wish came true this time, as we finally went to Le Mont Saint Michel from London by bus!
We spent 3 days in Mont Saint Michel from 10~12 of April. Basing on our experience, I'll share some tips about what was great and what would've been useful to know. Keep in mind though – our holiday was in the lower season, so it might work differently in summer. (Well, this can be my first tip: visit Mont Saint Michel during the low season if possible!) 😉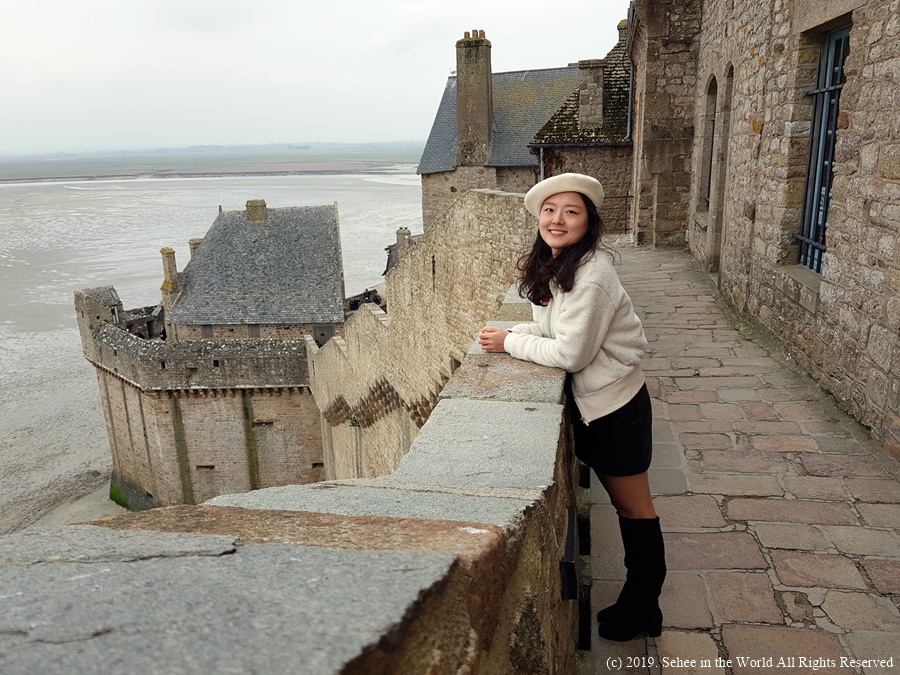 General Tips on Mont Saint Michel Trip
Although many tourists visit Mont Saint Michel as a day trip, I personally recommend to have a night there. This is mainly because, after around 6 pm you'll feel like the island is almost all yours! Many shops close too but that's not so bad, as most of them are souvenir shops. Indulge in the night view of the serene island and Mont Saint Michel Abbey.
Another advantage of having a night in Mont Saint Michel comes in the next morning. The whole streets and alleys are quiet as shops are only just getting ready to open for day trippers. This was the best time for us to take photos on streets. Day visitors started to bombard from 11-ish in the morning, making the street jam-packed. So till then, you can take as many photos as you want with the minimum number of people in.
Accommodation Tips (on/off the Island)
If you decided to have a night or more in Mont Saint Michel, your next question will be where to stay. We stayed two nights, on and off the island for each night. If you're considering just one night though, I'd prefer to book a room on the island for the atmosphere despite the higher cost.
Even if you decide to stay off the island (and don't have a car), you still don't need to worry. When we stayed the second night outside the island, we had no issue getting shuttles out and back. They ran frequently, so we didn't worry about a long wait or not getting the service.
Mont Saint Michel Abbey Tips
We didn't have luck for 2 days in catching the best time to visit Mont Saint Michel Abbey. We only managed to get in on Day 3, and I'm sharing these so you don't make the same mistakes.
When to Visit the Abbey
Morning
If you want the minimal disturbance by other tourists, do visit Mont Saint Michel Abbey early in the morning. Be a part of the first batch of the visitors to enter – first of the first is even better! We went second on the line for individual visitors after one couple, and everything was so much nicer. We pottered around and waited for about 30 minutes outside the building before opening (9:30 am for our visit date). But that meant there was no queue to buy tickets inside the building, which was great. The day before, we visited the abbey just after 10 am, and had to queue in and outside the building. I presume the queue inside and outside would only get longer as day trippers arrived, so be an early bird. These 30 minutes in the morning does seem to make a big difference!
If you come early in the morning, it's also best to take photos without packs of people. Group visitors entered Mont Saint Michel Abbey from the morning too; but as the group size was big and guides explained in detail, they were slow to catch us up.
NB. We didn't rent an audio guide and we were quick moving around. And the abbey itself that was open to the public for viewing looked quite empty. So if you don't have anyone/anything to tell you about the site, it won't take that long to look around. We spent roughly 45 minutes before hitting the souvenir shop at the end. Some people might think it is too short, but we had enough time. 🙂
This is a small detail for when you wait in the morning as the first visitor. Some particular individuals working at the abbey can get grumpy about tourists waiting close to the gate before its opening. The couple ahead of us were told so apparently, so we had to wait at the bottom of the staircase. Mind the staff if you are going to attempt to be the earliest bird.
Afternoon
What about in the afternoon as the final visitors before its last admission time? Well… that was our original intention, which didn't go down as we hoped.
On our first day, we went to see the abbey from the outside. Banners hung on the wall said the last entry was 5 pm (low season) and the abbey closed at 6 pm. So next day we turned up just before 5 pm to avoid the crowds, only to find a closed entrance. It turned out visitors needed to be 'inside' the abbey (ticket office), not at the gate by 5 pm. We were cut off with a few other visitors. Staffs were strict about letting people in, saying they wanted to sort out visitors at the ticket office by then. So some other visitors like us who came to the abbey entrance by 5 pm had to turn around. Had we not had another day in Mont Saint Michel, our trip wouldn't have ended fun… So if you want to try the last entry, be sure to pass the gate before 5 pm (low season).
The below information is from the abbey's website (using auto-translation to English) on different opening hours per season:
September ~ Apr: 9:30 am ~ 6 pm (daily) — when we visited
May ~ Aug: 9 am ~ 7 pm (daily)
1 Sep ~ 31 Dec: 9:30 am ~ 6 pm (daily except 25 Dec)
Last entry: 1 hour before closing
1 Jan / 1 May / 25 Dec: closed
Food Tips
As a honeypot site, it's predictable that the food & drinks in Mont Saint Michel are expensive. In addition, overall ratings on Google Maps were not that optimistic. Still, I managed to find a couple of not too bad options.
La Sirene for Lunch
Ranked #1 on TripAdvisor for restaurants in Mont Saint Michel, I was looking forward to trying crepes at La Sirene. General opinions about it on TripAdvisor were 'reasonable and tasty' – what's not to like? – and I had a pleasant experience too. As we arrived at Mont Saint Michel on Wednesday afternoon, we went straight to this shop for late lunch. Google Maps said it doesn't open on Thursdays & Fridays, and the opening hours were also suited to day visitors. That meant our first meal in Mont Saint Michel was the only opportunity for La Sirene!
Although I read a short queue started from 11:30 am before its opening, I didn't have a problem at 2 pm. This might be because we went to Mont Saint Michel at a lower season and it was a bit late for lunch. Anyway, we didn't have to queue and got a table as we went in. 🙂
I ordered a savoury crepe while my boyfriend ordered a basic sweet crepe, and we shared. As I went for a safe bet, it was a guaranteed taste and I enjoyed it a lot. The price, portion and the flavour were all great.
La Sirène Lochet
Open between 11:45 am ~ 4 pm
Closed on Fridays
Le Mouton Blanc for Dinner
Even if I wanted, I couldn't have another crepe for dinner at La Sirene as it closed at 3 pm. I also didn't bother La Mere Poulard for the so-called world-famous omelette, as it just seemed way too expensive for what it was. (No offense! I just thought it might not be enough to fill my hungry tummy at such price). So, we were looking for alternatives and Le Mouton Blanc offered 3 courses at €25 per person. Although I normally didn't do luxury trips and doubted the concept of a course meal (fancy, small portion, expensive), this one turned out quite nicely.
Rosé cider was joyful for a cider lover, and I tried traditional Mont Saint Michel omelette here as a start. For the main course, I went for roasted lamb, which seemed another specialty of the region. It was a smaller piece than I originally imagined, but overall it was all alright with the other dishes. My boyfriend had salmon for his main meal, and that tasted good too. Then, melting chocolate fondant was great to top my dinner off with.
Because the majority of the visitors don't stay on the island till supper and it wasn't the peak season, the restaurant was very, very quiet. Other than the silent atmosphere (no background music either), it was a decent evening.
Le Mouton Blanc
Next evening, we had spaghetti Bolognese at a different restaurant, which was close to horrible by comparison. Of course it was cheaper than a 3-course meal at Le Mouton Blanc, but I'd pay extra to avoid the disappointment in this simple & easy dish; there was not enough sauce for the pasta; my boyfriend's spaghetti Bolognese wasn't cooked properly; the waiter couldn't care less when we told him about it as we left.
Le Mere Poulard Rosé Cider
Talking of the cider above, I really loved the rosé cider I had during supper. As I knew someone in the UK who would also love this cider, I went back to Le Mouton Blanc to ask about the brand: Le Mere Poulard Cidre Rosé. It was over €20 for a bottle at the restaurant, so we visited possibly every souvenir shop that'd have it. La Mère Poulard Biscuiterie (next to toilets and Les Lutins shop) sold exactly the same one at €6. Now, this may taste no different from other rosé ciders sold in Mont Saint Michel; but as I only got to try this particular one and liked it, I know I can recommend this one! 😉
Overall, we had a wonderful time in Mont Saint Michel. We are glad that we finally made it, and it was a great time of the year to visit. Hope your Mont Saint Michel trip is as fun as ours and my tips come in handy for planning. Happy and safe trip, and please share your holiday experience with me on comments! =)
Pin for Later!