I love making gifts for those I care a lot about, for their birthdays and Christmas. Although it's pleasing to spot good presents on the high street, in my experience, handmade pressies go down better. I also find it more rewarding when my own ideas are transformed into something tangible.
So, here, I'm going to write about some of the DIY gifts and personalised items I've created. I hope they give you some fun ideas for your own DIY gift ideas!
Order customised jigsaw puzzles
Jigsaw puzzles are great presents for indoor entertainment, especially in winter when it gets dark so early and it's too nippy to go out. I had a special person to give a Christmas present to, who loved jigsaw puzzles and hadn't been to Korea. So Josh and I ordered a personalised 1,000-piece jigsaw puzzle. Good jigsaws have plenty of colour, variety and things going on in the image, and we wanted to introduce them to various aspects of Korea. With that in mind we selected 4 distinctively-Korean images that we'd photographed, and which each used plenty of different colours and textures, and made them into a collage. The actual production of the set was done through one of many photo print service providers available in the UK.
To order personalised jigsaw puzzles like mine, I suggest selecting a photo(s) with a high resolution to avoid fuzziness. Minimising the background of the photo(s) is also recommended. Every photo above originally had a lot more background 'blank space', which I reduced heavily by zooming in. This reduces the amount of sky in the jigsaw!
Order a customised calendar
Calendars might be common Christmas presents, as the new year arrives shortly after the Christmas period. You can make it less typical though by having 12 personal photos printed out for each month!
In my case, I ordered a desk calendar with a wooden stand for Josh, as we had already been given a wall calendar for the new year. (I also thought we could reuse the stand once the year ended). It worked as a nice little interior decoration, reminding us of fun memories together. Now the photos are cherished in our photo album. All in all, I highly recommend this as a DIY gift!
DIY gift: handmade, personalised items for a doll's house
For Christmas 2 years ago, I made Moomin, two picture frames with photos in them and a small sample wallpaper for a family member who had a doll's house. As every miniature item was relevant and personal to the recipient, they went down very, very well. 🙂
One year later, the doll's house had its makeover and was more ready to have additional furniture and decorative items. So I made more items last Christmas! As I knew the theme for one of the rooms, it was easier to decide what I should make. This didn't mean making them was any easier – I seem to like challenges! – but we were very pleased with how they looked in the house.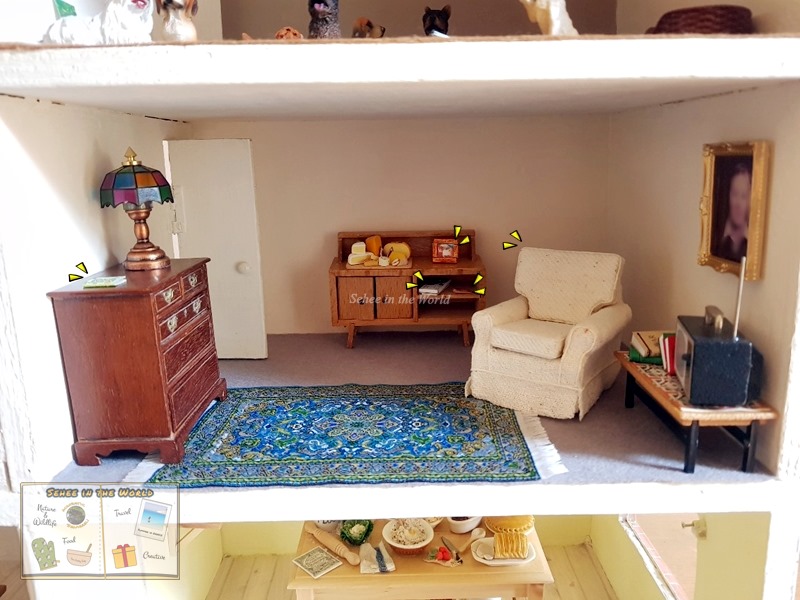 Order a customised 'Blue Plaque'
A customised blue plaque is a fun DIY gift, especially to mark someone's special birthday. I like reading Blue Plaques on some buildings in the UK about notable events or residents of the property in the past, and it sounded great fun to bestow this on the recipient.
To make this one, I had to come up with some clever and witty phrases to describe the recipient. I'm not sure how witty the texts were tbh, but the recipient loved this DIY gift, so all good. Haha. As this was made by an online printing company, I just needed to follow the instruction about the format. As the photo shows, this plaque actually hung outside their house, intriguing walkers to stop and read it (until they realised it wasn't an official Blue Plaque!). It eventually went indoors, hanging proudly on the entrance wall.
Make unique decorations on celebration cakes
I try to prepare and present celebration cakes with a personal touch to top off the special person's birthday, whether that's picking flavours the birthday person adores, to decorating the cake top with some personal connection. Decorations don't need to be complicated at all to have a personal element!
For example, the decoration for the Victoria sponge cake below was done literally with just icing. I printed a bear paw image, cut and placed the pieces on the cake top, then sprinkled icing sugar over it. It was so simple but effective (if you haven't guessed, the recipient likes bears a lot!).
Another idea I had for a cake top decoration was using a fox candle holder. Instead of cake candles, I used a tealight holder with fox design. Yes, here foxes had a personal connection to the recipient. As the chocolate glazing would make a mess for this extra gift, I chopped bamboo skewers into shorter sticks. They went in through the cake layers with tips sticking out so the candle holder could rest on them. Chocolate buttons were used to cover the gaps between the cake top and the raised fox candle holder.
Jubilee Pudding (lemon Swiss roll and amaretti trifle) had almost the same decoration as the original recipe's, but it had a small twist. Following the original recipe to make jewelled white chocolate bark, I made a white chocolate hedgehog using a cookie cutter. (It happened to be another wildlife-related personal addition… yes we love wildlife!) See? all of these didn't require clever piping drawings on the cake!
Make hand-drawn birthday or Christmas cards
It's easy to find all sorts of cool cards in card shops in the UK, covering just about every occasion… But I've been getting more into creating my own cards! I do so mostly by drawing wildlife-inspired celebrations, or sometimes using software to print my design work.
Below were birthday cards for my family. I picked wildlife that I was interested in or we spotted at the time of making them. As I'm not an expert and the cards are for personal use, I often search for image resources for guides.
For example, the kingfisher was from a nature magazine and the fish cakes were from Google Images. Both the badger and the cake were from Google Images searches, and I combined the two together in my drawing. The hedgehog was my creation, but I had enough opportunities to see hedgehogs up close… so I just went for it. 😉
When making DIY cards utilising design programmes, I used Adobe Illustrator or PowerPoint and printed the designs out.
This Christmas card design on the left was related to our playing rounds of Scrabble together. On the right, I made this card for Josh (and the homemade cordial's label) as a part of the Redwall-themed birthday presents, which I listed below.
DIY gift: make your own lottery vending machine for fun gambling
This DIY vending machine was a huge hit with someone in my family with a cheeky reputation for liking gambling. They sometimes bought lottery tickets, worth £1 or £2, before the pandemic and lockdowns hit the UK. Since they had to be extra cautious all this time, as they are a bit older, I thought of a fun gambling machine as alternative entertainment. I said 'fun gambling', as most of the prizes from the DIY lottery machine were small treats we wanted to offer them throughout the year – except 'no luck' cards. (So the machine was just a creative vehicle really to do other activities with them).
With limited resources and engineering knowledge, it was the most complicated handcraft project I've taken on yet. So many times did I go through brain meltdowns, trying to work out the mechanisms almost from scratch! I relied on any useful reference from YouTube videos. The perseverance, determination (or stubbornness) and mental support from Josh carried me through, especially when the £5 one's mechanism caused all sorts of hiccups and headaches…
In the end, it was jolly good that I didn't give up and shelve the idea midway through! Their reactions were so rewarding, from when they tore the wrapping and had no clue at first what it was, to when they gave it a go, winning a "beginner's luck" prize. What's more satisfying is the machine still works on its second year out, after maintenance work and upgrades. (I made new prizes with the new year's edition and refilled the slots in the machine).
This present idea particularly works well, if your main present(s) isn't physical goods (i.e. activities to do together, meal treats, etc.). With this, the recipient gets something to open now and will have things to look forward to later!
DIY gift: display presents with a theme that has a personal connection
If the present itself seems a bit plain or too straightforward, how to present it can make a big difference. My first example was when I bought a pair of trainers as Josh's birthday gift. The present was practical, but it wasn't the most personally meaningful gift I prepared for him. I also didn't have any wrapping paper big enough to wrap the box. Then, ding!, a light bulb came on in my head…
During the first lockdown, Josh introduced me to an animated TV series he used to watch as a child. One of the Redwall characters was Rollo, the little bank vole, who loved strawberry cordial. There was a particular scene where he featured that we both liked a lot. Planning to prepare the cake and drinks for his birthday relating to Redwall and Rollo, I extended the application to the gift wrapping. Measuring the shoe box, I designed and printed a castle which looked similar to the abbey in the cartoon, which was the one and only wrapping paper! I was on a roll, even using yogurt pots to make the oak barrels from which Rollo was test-tasting the strawberry cordial.
It doesn't need to be this complicated of course… like another example below!
As a part of the Peter Rabbit-themed present display, I used scraps of Peter Rabbit wrapping paper to stick on the card envelope like a stamp. For someone fond of the Peter Rabbit series, I baked biscuits using Peter Rabbit and Jemima Puddle-duck cookie cutters. Then I stuck the image of the two characters on my bluebells photo to make a birthday card! Even if the individual elements might've not been that creative, the whole look was quite sweet as they came together.
Print a personalised pub sign
This was one of the most unusual ideas I had. I came up with this for someone who had a motorhome and liked beer. I thought it could be a little something to take for fun on their motorhome adventures. Ideally, I would've liked my print on an A-shaped stand so it could stand outside their motorhome during breaks on various campsites… Still, this waterproof pub sign print did its job as it did accompany the recipient's European road trips. :>
Order customised wrapping paper
A roll of customised wrapping paper as a thing might sound like a random present. But if the person you want to give a gift is artistic and you have their artwork, this can be quite novel. A family member of Josh's drew a cute animal couple on a gift tag for us, which I've kept since. Later, when I needed to prepare her Christmas gift, I used this illustration as a pattern for customised wrapping paper! I scanned and edited it a bit, before saving the design pattern as a file to place a print order. When she unrolled the paper and saw her own drawing as a fine product, everyone mentioned that she could draw more like this and I could turn it into various merchandise. x)
While these suggestions are very personal to my experience, I hope they were inspiring for your special DIY gift projects for those you love. If you have good ideas to share, please leave a comment as I'm interested to hear about them!