What a blast our break to Alderney was! Even if arranging transportation had almost convinced us to shelve our Alderney trip, once we were there, it was extraordinary. The island, with a population of just 2100, is full of things to do, from wildlife watching to visiting WWII sites. As we had an extra day on the island due to the ferry breaking down, we covered quite a lot. So based on our 5 days on Alderney, here are a few things to do in Alderney that we suggest you try!
Hedgehog Tours
The single biggest attraction for us to visit Alderney was to see blonde hedgehogs. They're the same European hedgehogs the UK has but are leucistic (blonde), rather than brown-coloured! These are also different from being albinos. In Alderney, apparently about 60% of hedgehogs are said to be these blondies. This is the only place in the world where this happens in anywhere close to these numbers – and where you can see blonde hedgehogs yourself! As I'm gradually becoming a (wild) hedgehog fanatic, it made perfect sense to visit Alderney just to see these blonde hedgehogs. 😉
For this reason, we needed to maximise our chance to see blonde hedgehogs when we were on the island. So we joined both Bat and Hedgehog Walks from the Alderney Wildlife Trust and After Dark Safari from Alderney Tours!
The results? Oh yes, couldn't have been better! 2 blonde and 2 brown hedgehogs during the walking tour, and 10 blonde and 8 brown during the night safari tour! Apparently this was quite a record, which made me think my lucky hedgehog socks did the trick nicely!
What's also amazing about these tours is learning about bats and spotting them. The Alderney Wildlife Trust's walking tour involves using a bat detector, so you can hear and spot them. We picked up a lot of information on bats from our guide Roland as well. Lots of bats were seen during the night safari tour too, including them snapping flies attracted to our light. I'm not even a bat person but it was really quite an amazing experience.
Tip: we strongly recommend you to join both tours if possible, as they covered different areas of the island. In addition, both guides were incredibly knowledgeable to help us learn about the local wildlife!
Tour Information
Alderney Wildlife Trust (Bat and Hedgehog Walks)

Address: 48 Victoria St., Alderney, GY9 3TA

Schedule: Tue/Thur evening at dusk from Apr~Oct – contact to enquire the up-to-date schedule
Fee: £7 for adults & £4 for children (20% discount to AWT members)

Phone: (+44) (0)1481 822 935

Email: admin@alderneywildlife.org

Alderney Tours (After Dark Safari)

Schedule: varies – contact to enquire or check Facebook post
Fee: £10 for adults & £7 for children under 16

Phone: (+44) (0)7815 549 191

Email: alderneytours@gmail.com
Volunteering with the Alderney Wildlife Trust
Volunteering with the Alderney Wildlife Trust is another activity we suggest you do. We got to know some of the islanders who were regular volunteers, which made our holiday so much more personal. A contribution to a better environment for the island and locals is an obvious reason to spend an afternoon volunteering.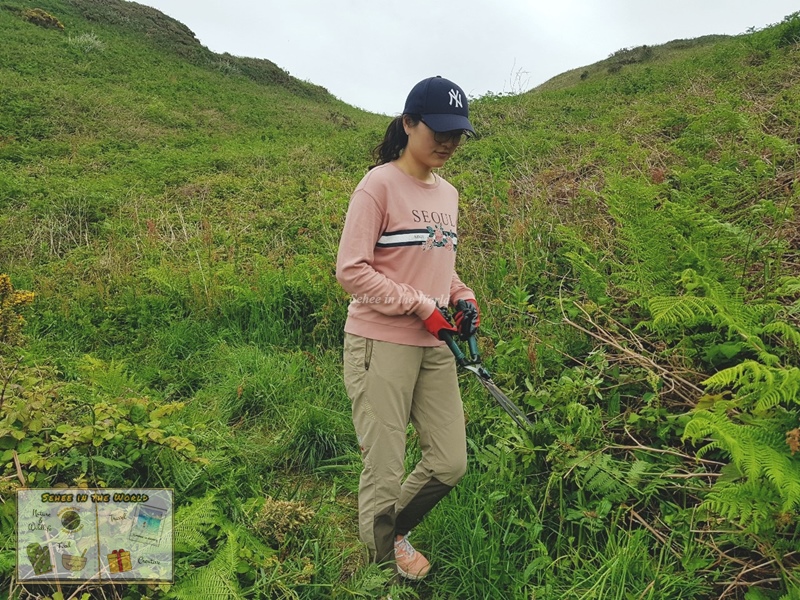 We trimmed bushes with Jackie for better public access to the Zig Zag near Clonque Bay Beach, while Ellen from the Alderney Wildlife Trust, John, Ben and Andy created a raised wildflower bed by Alderney Airport. A well-earned drink at the pub with them was really fun!
Volunteering is on Wednesdays and Saturdays from 2pm, so if you're in Alderney on either day, simply contact them. The Alderney Wildlife Trust will always love extra helping hands! Emailing, calling or popping in their shop all work. :>
Volunteering Information
Address: 48 Victoria St., Alderney, GY9 3TA
Schedule: Wed & Sat 2pm
Phone: (+44) (0)1481 822 935
Email: conservation@alderneywildlife.org
Sugar Hog Ice Creams
I like the name of "Sugar Hog" to start, no surprise, and the shop has various flavours of homemade gelato. They also sell sweets in jars like an old-fashioned sweet shop, which can be added as ice cream toppings.
Some of the flavours changed daily, which let us discover lotus biscoff, strawberry & lime sorbet, watermelon & raspberry sorbet, honeycomb and peanut!
The lotus biscoff was particularly scrumptious, and we had never come across such a flavour before. Talking of new flavours, the two sorbet flavours were also unique combinations and tasted very refreshing… I'd been looking for honeycomb ice cream for so long (inc. the Hartfield day trip) and I was so happy to have it at Sugar Hog. It was a quality vanilla ice cream with good-sized honeycomb chunks in it. Oh and we clearly also loved the peanut flavour too, as it was included in our flavour selection twice!
We went to the shop every day except our leaving day. I forgot to take a photo once (it was peanut and honeycomb), but 4 ice creams in five days were quite a treat. We very nearly got a 5th one as well… oh, this wasn't easy to resist, after heading down to the shop and seeing people enjoying ice creams on a sunny morning…
So anyone who likes ice creams and wants a nice treat(s), Sugar Hog is the answer!
Sugar Hog Information
Address: 56 Victoria St., Alderney, GY9 3UF
Open: Mon~Sat 10am-4pm, Sun 11am-3pm (seemingly changeable/flexible)
Phone: (+44) (0)7761 160 402
Email: hello@sugarhog.co.uk
Social Media: Facebook page
Alderney Bayeux Tapestry at Alderney Library
It's worth checking out Alderney Library which displays Alderney's imagined final scenes of the famous Bayeux Tapestry. This was something different (and again unique) that wasn't about wildlife! Over 400 people stitched the 3 metre-long tapestry following the original style of the Bayeux Tapestry, including Prince Charles and the Duchess of Cornwall. It's meaningful as the local community's attempted recreation of a vital missing scene from the original tapestry, the Coronation of William the Conqueror in Westminster Abbey. But there was another special feature – a cute addition of the Channel Islands' symbols! Make sure to spot the Donkey, the Toad and the Puffin, which respectively represent Guernsey, Jersey and Alderney. The English Lion is embracing these animals, showing the connection with the English Crown from 1066.
Alderney Library Information
Les Étacs Gannet Colony
One of the first things we saw at the junction as we came out from Alderney Airport was a sign that just said 'The Gannets'. If you follow this sign, you'll see gannets off the coast on Les Étacs.
Though we walked to the gannet watching area by ourselves, the Alderney Wildlife Trust runs a guided walk tour to this spot too. We found this out as Roland appeared with a couple! Apparently, over 1% of the world's population of northern gannets can be seen here. We 'ain't been droppin' no eaves' and were just gazing at the gannet colony, but you could hear a lot more about gannets and their behaviours if you join the tour.
Tip #1: take a pair of binoculars for a closer look of the birds on Alderney.
Tip #2: Alderney piglets are a adorable stopover en route.
Church View from La Ville Hotel
We stayed most of the nights on Alderney at La Ville Hotel. Alderney has several fancy accommodation options and, honestly speaking, we wouldn't put La Ville Hotel in that group. But it was A LOT better than we expected – in fact it was quite a glorious stay! A major contributor was the stunning view from our room of St Anne's Church.
The room itself was also neat, so when we first entered the room we were wowed by the overall setting! A small thing to note is I occasionally smelled cooked food from the bathroom (possibly through the fan from the restaurant kitchen).
The cooked breakfast and cereal/juice bar were great too, including Alderney yoghurt (minimal food miles!). We think a new team of kitchen/hall staff had joined the hotel a day or two before we checked in, so the first morning wasn't quite as smooth as you'd expect for a hotel, but the hall staff were very friendly.
The nightly rate (from booking.com) was on the more reasonable scale for Alderney accommodation and while the advertisement photos hadn't given us a fancy impression, we rated our experience at La Ville Hotel very highly.
Tip: if you stay at La Ville Hotel, ask if they can give you a room at the back of the hotel for the view of St Anne's Church. 🙂
La Ville Hotel Information
Address: 44 Victoria St., Alderney, GY9 3TA
Check-in from 3pm, Check-out until 11am
Phone: (+44) (0)1481 824 784
Email: contactus@lavillehotel.com
Website: https://lavillehotel.com/
Book with booking.com
Roman Fort
The Roman Fort is one of the significant sites on Alderney to visit to understand the island's long history. Its original structure dates back to the 4th century, and was added to and repurposed over time until the end of WWII. Throughout history, Tudors, British soldiers in the 1790s and German soldiers had been based at this Roman fort! The summary of the structure at the Nunnery Heritage Site was useful to understand how the sections had been used. The information room also featured a model of its original shape to compare with the fort's contemporary look.
While the older features felt like historic sites to appreciate, the ones added by Nazi soldiers in WWII were a stark reminder of the island's recent history. I might be stating the obvious, as the island was occupied by German forces during WWII, but I didn't want to stay in these rooms for too long as they certainly made me feel quite heavy.
One of the outer walls of the Roman Fort reminded me of Seoul City Wall (Naksan Fortress), as we could tell the different periods of construction/repair work. You can see this as you go out towards the beach and look back at the fort's walls.
Roman Fort Information
Address: near Longis Bay
Open: daily 10am-4:30pm
Admission: free
Phone: (+44) (0)1481 822 333
Email: tourism@alderney.gov.gg
More Things to do in Alderney
Here is some extra stuff to do – we didn't manage to do all of these activities as we were busy with wildlife, but I think you might enjoy them.
Beach Swimming
It was really tempting to have a go at beach swimming when we walked all the way to Saye Beach and Corblets Beach. (This was so unusual that Josh found my repeated comments about it surprising). I hadn't packed anything for swimming as the weather forecast indicated it'd be quite chilly… The water might have been refreshing indeed, but it was a hot and sunny day to want to try a dip. Furthermore, barely anyone was around so we could've had the beach all to ourselves. (Mind you, it was May so it could be busier during hotter months).
Alderney Museum
Alderney Museum's local collection constitutes over 18,000 items from the pre-historic period to WWII. In addition to the Roman Fort, a visit to Alderney Museum may give you a fuller background on the past and present of Alderney. Some of these artefacts the museum has include some recently found Roman remains, items from an Elizabethan wreck, and German Occupation documents and objects.
On a different note, do you know the Wombles, long-nosed burrowing creatures that tidy up rubbish at Wimbledon Common? If so, Alderney Museum could also be interesting to pop in, with the original Womble soft toys, and a scrapbook for stories and photos. The author Elisabeth Beresford had a connection to the island (as one of the characters' name, Alderney, suggests), so her family donated them to Cancer Research UK in Alderney. This Facebook post from Alderney Museum shows a nice sneak peek. The Blue Plaque about her residence on the island can also be found on 22 Little Street.
Alderney Museum Information
Address: High St., Alderney, GY9 3TD
Open: April~October / Mon~Sat 10am-12pm & 2:30pm-4:30pm
Admission: £3 for adults, Free for children and members
Phone: (+44)(0)1481 823 222
Website: https://www.alderneymuseum.org/
Train ride
Remarkably, Alderney has a train line which still runs between Braye Station and Mannez Quarry! This is rather cool considering that Alderney isn't even the biggest among the Channel Islands, and yet has a working railway as a mode of transport… The current passenger carriages are actually two former Northern line tube trains. As some people say, you can see France in the distance from a London Tube! The Alderney Railway also runs a miniature train service on a shorter route.
I wanted to have a ride for the experience, but we didn't come across much information about it until the penultimate morning, and had already walked along the entire route. Also, having just looked at the train timetable, we wouldn't have been able to get onboard anyway; trains run mostly on weekends only and seasonally. Find more up-to-date information at Alderney Railway's website, including the timetable, detailed route and fares.
Alderney Railway Information
Seabirds Boat Trips
We wished to have been able to do a boat trip but our schedule didn't line up for us (we were busy volunteering with Alderney Wildlife Trust). If you'd like to see seabirds including puffins (we were happy to see them from a land-based camera on a screen inside the Alderney Wildlife Trust's shop), it's a good option to consider. They come to Burhou between March and July, and unlike Les Étacs for gannets, Burhou is too far away to see puffins from the main island.
The Alderney Wildlife Trust runs two types of boat trips: Seabirds Boat Trip and Alderney's Seabirds & Round Island Boat Trip. For more details, check here.
There you go! I hope this long list of things to do in Alderney has inspired you to travel to this charming island. If you do take a holiday to Alderney, feel free to comment below and share how your trip to the island was! :>
Pin for later