My winter Norway trip with Josh in January/February gave us several good experiences to remember for a long time. To start, we saw plenty of snow, probably a year's worth (!), and I felt even closer to nature! Before my memory gets blurry I wanted to jot those experiences down, which may also inspire someone wondering what there is to do in Norway in winter…
Husky sledding (highly recommended for a Norway winter trip!)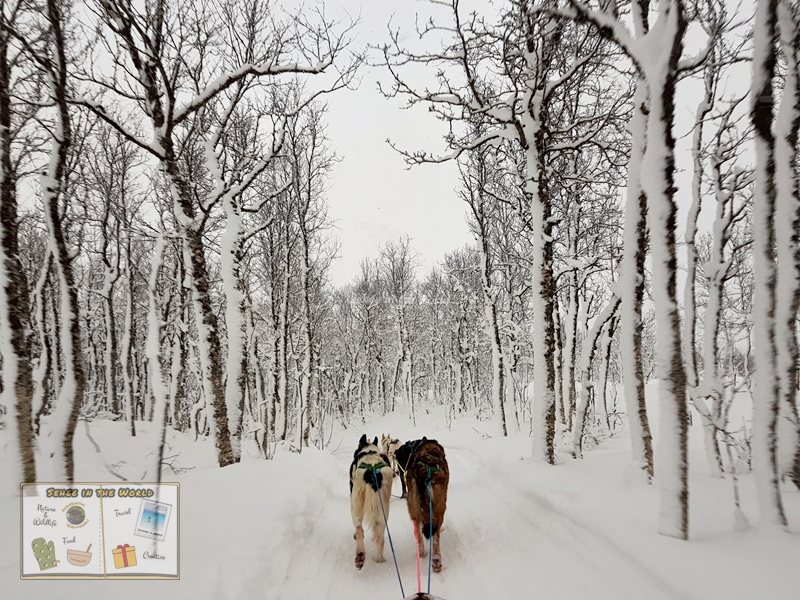 The husky sledding experience in Tromsø was the pinnacle of our Norway winter trip. Before this tour, I'd been slightly concerned about how fast the dogs might run. There were moments indeed where I found it very speedy, but it was AMAZING… It was so exhilarating that we both commented 'we wouldn't say no if there were another chance'. Lucky us, as we had an incredible team of 6 dogs (Soko, Hey, Mons, Dee-Dee, Storm and Torden). They were very happy and energetic, and were eager to run more and faster if possible! Everything else also left us with a good impression, from the friendly staff to the grand snowscape during sledding. Filming on the sledge didn't do justice to capturing the thrill we had during this activity. Even the reindeer stew that was included as a post-tour lunch…
Borgund Stave Church
While planning this winter trip, we both wanted to visit a stave church – ideally the best-preserved site, Borgund Stave Church. So we arranged a stopover here by public transport on the way from Bergen to Oslo. The off-peak season meant the visitor centre wasn't open, which also meant we encountered hardly any other tourists. Seeing Borgund Stave Church covered in snow was spectacular alongside the wintery landscape surrounding the church. It felt doubly special having this view all to ourselves – a huge advantage of a winter visit I guess!
The church visit made one of the most memorable experiences from our trip, also because it was tricky to stop by! The bus stop 'Lo aust (Lærdal)' to visit Borgund Stave Church stood off the road just outside a tunnel. Its location and the speed vehicles drove past made us doubt if we could get back on the connecting coach safely, as we embraced the sharp wind. The anxiety became worse when Google Maps' live info suggested our coach left, while we'd been waiting 20+ minutes before the scheduled time. We couldn't be more relieved seeing the coach coming out of the tunnel! So, with all these considered, our visit to Borgund Stave Church was certainly one of the highlights of the trip.
On a side note, the journey itself was interesting too, going through the world's longest tunnel and some beautiful scenery. 🙂
Nacreous clouds (pearl clouds)
Despite only managing a glimpse of the northern lights in Alta, we saw something that neither of us had even heard of. As the name indicates, these pearl clouds had a peculiar gradation of colours. Although I had to make the sky darker on my camera to capture the clouds, they were easily visible in the daylight. The pearl clouds looked as if oily rainbow bands appeared in the sky.
Snowshoe-trekking and watching musk oxen at Dovrefjell National Park
We stayed in Hjerkinn during our Norway winter trip to attempt to see musk oxen in the wild. With a limited window and it being winter, a local guide accompanied us to increase our chances to spot them – it's also highly recommended to visit the national park with a guide because musk oxen are large, wild animals, with bad eyesight and capable of running much faster than you can!
Oh, it was impossible to go trekking in Dovrefjell National Park in winter without wearing snowshoes! (I could see why Norway is one of the powerhouses in cross-country skiing and winter sports in general). It was cool getting to try the snowshoes and I was rather proud of myself, for having completed a proper long-distance snowshoeing session on my first occasion of using them.
Wrapping up the recollections on our Norway winter trip, what would I choose as the very best, most memorable experience? It might've been clear from the start, but…. (here goes a drum roll…) it's husky sledding! We both had high hopes about this, but it still managed to exceed our most optimistic expectations. Despite the large chunk of our travel budget going into this activity (it certainly wasn't cheap!), we agreed it was well worth every penny. :> Hopefully this wasn't the first, last and only dog sledding experience I will get to try!